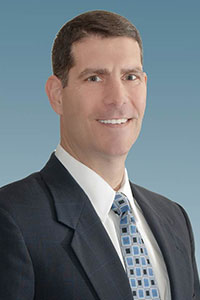 Andrew D. Stone is a co-founder and member of Stone, Glass & Connolly, LLP. He was born in Chicago and moved to Miami as a child. After graduating from high school, he attended the University of Florida where he earned his Bachelor of Science degree in 1992. He went on to earn his Juris Doctor degree from the University of Florida in 1995. After graduating from law school, Mr. Stone returned to South Florida where he currently resides with his family.
Mr. Stone was admitted to the Florida Bar in 1995 and is currently in his 22nd year of practicing law. He focuses his civil trial litigation practice on insurance defense matters including general premises liability, auto negligence, negligent security, professional liability, products liability, and construction defect cases. Mr. Stone also consults with insurers on issues related to bad faith avoidance.
Mr. Stone is an "AV" rated active trial lawyer in South Florida including Miami-Dade, Broward, Palm Beach and Monroe Counties.   He has tried cases before several Courts in the Tri-County area and has achieved favorable verdicts for his clients including defense verdicts and awards of attorney's fees and costs. Mr. Stone has also actively and strategically litigated cases to obtain legal dismissals of plaintiff's claims in order to avoid the needless expenditure of his clients' time and resources.
Mr. Stone frequently conducts seminars on Florida defense litigation topics including current trends in the defense of personal injury cases, evidentiary issues regarding the presentation of economic damages at trial, and how to navigate Florida bad faith law.
Mr. Stone has lectured on the defense of premises liability cases and recently was a guest speaker at the "Giants of the Courtroom" CLE Seminar where he was asked to be a panelist on the topic of "Using the Deposition to Win the Case". Mr. Stone was also a guest speaker at the Claims and Litigation Management Alliance (CLM) Premises Liability Conference where he lectured on recent changes to Florida's Slip and Fall Law. Mr. Stone has also lectured on the defense of traumatic brain injury cases and was asked to attend an ASME Summer Bio-Engineering Conference to speak about the role of biomechanical engineering in personal injury litigation.
Mr. Stone is a member of the Florida Bar, the Dade County Trial Lawyers Association, the Dade County Bar Association, the Florida Defense Lawyers Association, Defense Research Institute, and the Claims and Litigation Management Alliance. He is an appointee to the Military Affairs Committee of the Florida Bar and is also admitted to practice in the United States Southern District of Florida.
Contact Andrew D. Stone.
Save
Save
Save
Save
Save