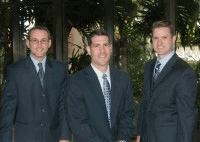 Stone, Glass & Connolly, LLP is a statewide "AV" rated defense litigation law firm that uses its extensive experience to efficiently achieve favorable results through the combination of strategic aggressiveness and creative legal analysis.
The firm represents clients in state and federal courts throughout the State of Florida, focusing its trial and appellate practice on general liability defense, premises liability, auto negligence, negligent security, condominium liability, construction defect litigation, products liability and professional liability.
In addition to its general third party liability practice, SGC defends insurers in first party property damage disputes, renders coverage opinions, and litigates first and third party coverage actions. The firm also provides counsel in connection with the defense of bad faith claims and civil remedy violation notices.
Stone, Glass & Connolly, LLP also offers legal services in commercial litigation cases, including real estate, construction and other contractual disputes, as well as in bankruptcy and insolvency matters.
SGC is committed to providing its clients with exceptional legal services through the highest level of preparation, professionalism and execution. SGC's partners, associates and staff dedicate themselves to serving their clients by maintaining open and easily accessible lines of communication.
Save